At MHS we are here to help support you through these challenging times, and in this post you will find the expert tips, meal ideas and exercises to help you get through this week and beyond.
We would also like to assure you that the health, wellness, and safety of our clients and staff will always be our top priorities at Metabolic Health Solutions - click here for more information.
The good news is that you can support your metabolic health with lifestyle to improve immunity and covid outcomes - click here to watch video.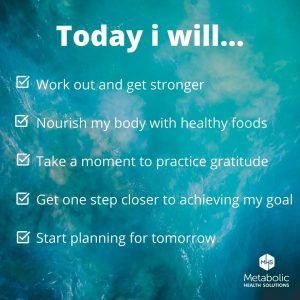 Nutrition
Below our Dietitian Danielle provides you with her top hints and tips to help keep on track and fuel your body correctly to not only help control your BSL and increase fat burning, but also optimise your sleep, weight loss and cravings.
Get enough protein and fats to help fill you up and keep you full:
Including protein foods like eggs, meats, fish and dairy like cottage cheese and yoghurt. 
Good fats to us: olive oil, avocado, cheese, nuts, cream, coconut milk/cream/oil. 
Slow cooked meats are a great option while you're at home and can made in bulk and frozen and are also very versatile: serve them with vegie/salad, use them for lettuce tacos, mix with chopped vegie and cheese and bake in the oven. Can also be added to quiches and omelettes 
If snacking go for higher protein snacks or at least something with some fats, like a tin of tuna, boiled eggs or celery and peanut butter, olives, cheese and nuts.  
Manage non-hungry eating:
It's really common to eat for reasons other than hunger, but avoid setting yourself up for unhelpful eating habits while you're at home. e.g. avoid keeping foods around that are very tempting to eat, or if you do have them at home, keep them out of site to avoid further temptation. 
Quarantine can really disrupt your routine so it can be helpful to keep some kind of structure to your day. Regular meals can help to prevent unhelpful habits like snacking and binge eating. 
Keep busy - plan your day and set some goals so you have something to do. Something like reorganising the pantry or if that's too overwhelming, just focus on a portion of the pantry. Start small; any goal is better than no goal. 
Exercise
Staying active can help with immunity, weight loss maintenance and managing stress. Below are some links they you may wish to try at home, and consult with your practitioner if you have any concerns. Remember something is always better than nothing!
Expert tips
Prioritise sleep, and if you have a CPAP machine - use it
Continue to be active and exercise - read above
Ensure adequate intake of nutrients (including zinc, magnesium and collagen) and reduce pro-inflammatory foods such as sugar and omega-6's
Get enough sunlight to stimulate vitamin D production and check your levels with your GP
Quit smoking or talk to your GP about other options
Monitor your BSL and blood pressure - talk to your MHS practitioner for specific strategies to optimise management.
In accordance with the emergency management act, our allied health professionals will be offering telehealth services this week to help keep you on track, problem solve challenges, and optimise your results and metabolic health during this period and beyond. And as always our team is happy to answer any other queries or questions you may have, simply contact us.
Thank you for your support in keeping our community healthy and strong.